Andrew Mitchell says UK's engagement in conflict is 'doomed to strategic failure'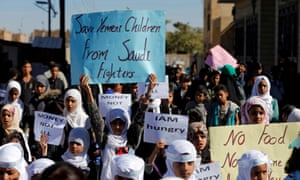 Children protest against the Saudi-imposed blockade outside the UN offices in Sana'a, Yemen. Photograph: Khaled Abdullah/Reuters
A former Tory cabinet minister has accused the UK of being "dangerously complicit" in a Saudi policy toward Yemen that is "directly promoting a famine and the collective punishment of an entire population".
The former international development secretary, Andrew Mitchell said Britain's engagement in conflict was "doomed to strategic failure". He warned of a humanitarian catastrophe "the likes of which we have not seen in decades".
A Saudi-led coalition has conducted bombing missions in Yemen with arms and military support from the US, UK and other countries. Mitchell, who has visited Yemen, claimed Saudi Arabian policy violated international law.
The British government insists it is pressing Saudi Arabia to lift the restrictions and negotiate a new inspections regime.
Mitchell's intervention came as UN humanitarian agencies in Yemen pleaded with Saudi Arabia to permit the delivery of two urgently needed shipments of medicine and food aid blocked outside the port of Hodeidah, warning that a 15-day Saudi-imposed blockade was endangering tens of thousands of lives.