31 Aug
United States Wars, News and Casualties
*********************
Originally Published on Jan 19, 2008
"Do not go gentle into that good night"
 Poem by Dylan Thomas, 1914 – 1953.
 Rage! Rage!
"I regret they got hurt,' Bush,the former president and war criminal said of the veterans."
To the War Criminal Bush – And to the thousands upon thousands of innocent civilians?
Never, ever forget that the War Criminals Bush, Cheney, Rumsfeld etc. founded ISIS and today are proud of what they did and feel no regret.
'It was the right decision': Bush says he has 'no regrets' about invading Iraq and Afghanistan when asked how he feels when he sees wounded veterans
Since the Iraq and Afghanistan conflicts began, at least 8,000 US and allied soldiers have died, according to CNN.
Tens of thousands of civilians are believed to have been killed in Afghanistan since 2001, according to the United Nations.
The civilian death toll in Iraq is estimated to be somewhere between 170,000 and 190,000, according to Iraq Body Count. 
The McGlynn
**********************

War News
Casualties from cluster munitions, internationally outlawed weapons that kill indiscriminately, more than doubled in 2016 compared with the previous year, a disarmament group that monitors the bombs' use reported on Thursday.
The group, the Cluster Munition Coalition, said nearly 1,000 people had been killed or injured by the bombs, which are banned by international treaty. Most of the increase was attributed to the war in Syria, where, the group said, Syrian government forces began using the weapons in July 2016 with Russia's support.
Dozens of other deaths and injuries last year were attributed to the Saudi-led bombing of Yemen and lethal remnants buried in Laos from the intensive American bombing of that country during the Vietnam War era, the group said………………..A number of major weapons-producing nations, however, have not signed or agreed to the treaty, including the United States, Russia, China and Ukraine. Nearly all countries in the Middle East also have not signed or agreed to it…………………..Other countries where casualties from cluster munitions were reported included Bosnia and Herzegovina, Iraq, Lebanon, Libya, Serbia, South Sudan and Vietnam.
Letter to UN human rights council from coalition of 62 organisations calls for investigation of airstrikes that have destroyed schools, hospitals and homes
Human rights groups have urged the UN to establish an independent inquiry into abuses during the Yemen conflict, which has spiralled into the world's worst humanitarian crisis.
The UN human rights council has verified the deaths of more than 5,000 civilians since the outbreak of war in March 2015, although the actual number is likely to be significantly higher. The conflict has devastated Yemen's infrastructure and economy, leaving at least 8,719 people wounded, 7 million on the brink of famine, and an estimated 540,000 suffering from cholera.
"The Saudi Arabia-led coalition has conducted scores of unlawful airstrikes … that have killed thousands of civilians and hit schools, hospitals, markets, and homes. The Houthi armed group and forces loyal to former president Ali Abdullah Saleh have fired weapons indiscriminately into populated areas in Yemen and southern Saudi Arabia and used explosive weapons with wide-scale effects," wrote the signatories to the letter…………………."[France and the UK] are supporting a coalition which does not respect human rights," he said. "The human rights council is another opportunity to [publicise] information and remind the public that what is going on in Yemen is very serious."
The Department of Defense announced today the identity of a soldier listed as Duty Status Whereabouts Unknown (DUSTWUN). The announcement resulted from an Aug. 25 incident in Yemen where the soldier was supporting Operation Inherent Resolve.
 Staff Sgt. Emil Rivera-Lopez is listed as DUSTWUN from the Aug. 25 incident. The incident is under investigation.
States that were until recently committed to toppling the Syrian leader are now resigned to him staying
In recent months, as supplies of aid, money and weapons to Syria's opposition have dwindled, it had clung to the hope that ongoing international political support would prevent an outright victory for Bashar al-Assad and his backers. Not any more.
An announcement earlier this week by Jordan – one of the opposition's most robust supporters – that "bilateral ties with Damascus are going in the right direction" has, for many, marked a death knell for the opposition cause.
Within the ranks of the political opposition, and regional allies, the statement was the opening act of something that all had dreaded: normalisation with a bitter foe. And without anything much to show for it.
Emphasising his words, Jordanian government spokesman Mohammad al-Momani said: "This is a very important message that everyone should hear." And indeed, the about-face in Amman was quickly noted in Ankara, Doha, and Riyadh, where – after seven and a-half years of war – states that were committed to toppling the Syrian leader are now resigned to him staying.
Junior health workers are raising awareness about handwashing and drinking clean water to prevent diseases like polio, typhoid, measles and cholera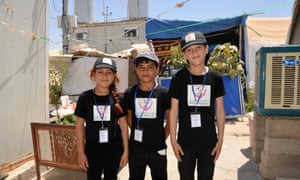 Hyatt, Hussein and Habib, International Medical Corps' junior health workers in Kapartu camp in northern Iraq. Photograph: Helen Nianias
In the 45-degree heat and billowing dust of Kapartu camp in northern Iraq, staying neat and tidy presents a challenge, but there is one group of people who are always immaculately turned out and easily identifiable as humanitarians: a collection of children aged 11 to 13 who take great pride in their roles as junior health workers (JHWs). Smartly dressed in clean black T-shirts, black caps, and with lanyards round their necks, these children help fight the spread of infection, promote healthy habits and humanitarian ideals.
"I like wearing it, and my friends also like me wearing it," says Hyatt, who is unsure of her age but thinks she is 12. "They wish they could dress like me and be a junior health worker."
A few years ago in 2014, Hyatt was one of an estimated 300,000 people living in the Iraqi city of Sinjar when Islamic State laid siege. The majority were Yazidi, an ancient religious minority who became a particular Isis target; under the threat of rape and enslavement they fled the city. Many spent weeks trapped in the mountains during August, unable to access clean drinking water and exposed to terrible conditions.
Baghdad (IraqiNews.com) A civilian was killed, seven others, including army personnel, were wounded in two blasts that north and southwest of Baghdad, security sources said.
"A bomb, placed near stores in al-Zaafaraniya region, leaving a civilian killed and four others wounded," a source told Alghad Press on Thursday.
Another blast targeted an army patrol in northern Baghdad.
Speaking to Baghdad Today, a source said, "a bomb targeted an army patrol in al-Tarmiyah region in north of Baghdad, leaving three personnel wounded."
Violence in the country has surged further with the emergence of Islamic State Sunni extremist militants who proclaimed an "Islamic Caliphate" in Iraq and Syria in 2014
BAGHDAD (Reuters) – Hundreds of additional troops were sent into al-'Ayadiya on Wednesday, as Iraqi forces came under increasing pressure to clear Islamic State fighters from their final position in the group's former stronghold of Tal Afar, military officials said.
Iraqi forces have been facing an unexpectedly tough battle in the small town, 11 km (7 miles) northwest of Tal Afar.
"We have to finish the battle before Eid, whatever it takes," said Army Lieutenant Colonel Adnan al-Saidi. "We are coming under tremendous pressure from top commanders." The Muslim holiday of Eid al-Adha begins on Thursday evening.
 
Families and relatives of Islamic State militants are see after they surrendered themselves to the Kurdish Peshmerga forces in al-Ayadiya, northwest of Tal Afar, Iraq August 30, 2017.Ari Jalal
"We will take back al-Ayadiya even if we have to level all houses and buildings used by Daesh," Saidi said, using the Arabic acronym for IS.
WASHINGTON — The United States has about 11,000 troops in Afghanistan, the Pentagon said on Wednesday, acknowledging for the first time publicly that the total forces there are higher than formally disclosed in recent years.
Previously, Defense Department officials had said 8,400 troops were in Afghanistan as part of NATO's Resolute Support mission. An additional 2,000 American troops, which military officials have not publicly acknowledged, are in Afghanistan to help local forces conduct counterterrorism missions.
The new count includes covert as well as temporary units, defense officials said.
A prominent commander of the Haqqani terrorist network who was leading a group of at last fifty insurgents was killed during an operation in central Logar province of Afghanistan. The Ministry of Interior of Afghanistan in a statement confirmed that the commander of the terror network was killed late on Tuesday night. The statement further
Officials in Islamabad are concerned regarding the possible blocking of the transit route to Central Asia and Europe by the Afghan government, it has been reported. The concerns have been shared by the authorities in Islamabad amid deteriorating diplomatic ties between the two neighbors. Sources within the Pakistani government have said the step could be
C

asualties, Exclusive of Civilians
Recent Casualties
Color Denotes Today's Confirmation
The Department of Defense announced today the death of a soldier who was supporting Operation Freedom's Sentinel.

Staff Sgt. Aaron R. Butler, 27, of Monticello, Utah, died Aug. 16 in Nangarhar Province, Afghanistan, of injuries suffered from an improvised explosive device while conducting combat operations. The incident is under investigation.
Butler was assigned to the 19th Special Forces Group (Airborne), Camp Williams, Utah.
The Department of Defense announced today the death of two soldiers who were supporting Operation Inherent Resolve. They died Aug. 13 of wounds sustained while engaged in combat operations in Iraq. Both soldiers were assigned to 2nd Battalion, 319th Airborne Field Artillery Regiment, 2nd Brigade Combat Team, 82nd Airborne Division, Fort Bragg, North Carolina. The incident is under investigation.
Killed were:
Sgt. Roshain Euvince Brooks, 30, of Brooklyn, New York
Spc. Allen Levi Stigler Jr., 22, of Arlington, Texas
The Department of Defense announced today the death of two soldiers who were supporting Operation Freedom's Sentinel. They died Aug. 2 in Kandahar, Afghanistan, as a result of injuries sustained when a vehicle-borne improved explosive device detonated near their convoy. Both soldiers were assigned to 2nd Battalion, 504th Infantry Regiment, 1st Brigade Combat Team, 82nd Airborne Division, Fort Bragg, N.C. The incident is under investigation.
Killed were:
Sgt. Jonathon Michael Hunter, 23, of Columbus, Indiana.
Spc. Christopher Michael Harris, 25, of Jackson Springs, North Carolina.
The Department of Defense announced today the death of an airman who was supporting Operation Inherent Resolve.
Tech. Sgt. David Board, 49, of Barboursville, West Virginia, died August 2 in Kuwait in a non-combat-related incident while deployed in support of combat operations.
The Department of Defense announced today the death of a soldier who was supporting Operation Freedom Sentinel.
Pfc. Hansen B. Kirkpatrick, 19, of Wasilla, Alaska, died July 3, in Helmand Province, Afghanistan, from wounds received during an indirect fire attack. The incident is under investigation.
He was assigned to the 1st Battalion, 36th Infantry Regiment, 1st Brigade Combat Team, 1st Armored Division, Fort Bliss, Texas.
DOD:  The Department of Defense announced today the death of three soldiers who were supporting Operation Freedom's Sentinel.
They died June 10 in Peka Valley, Nangarhar Province, Afghanistan, of gunshot wounds sustained in Peka Valley, Nangarhar Province, Afghanistan. The incident is under investigation.
The Soldiers were assigned to Headquarters and Headquarters Battery, 3rd Battalion, 320th Field Artillery Regiment, 101st Airborne Division (Air Assault) and Company D, 1st Battalion, 187th Infantry Regiment, 3rd Brigade Combat Team, 101st Airborne Division (Air Assault), Fort Campbell, KY.
Killed were:
Sgt. Eric M. Houck, 25, of Baltimore, Maryland;
Sgt. William M. Bays, 29 of Barstow, California; and
Corporal Dillon C. Baldridge, 22 of Youngsville, North Carolina
PTSD: National Center for PTSDPTSD Care for Veterans, Military, and FamiliesSee Help for Veterans with PTSD to learn how to enroll for VA health care and get an assessment.All VA Medical Centers provide PTSD care, as well as many VA clinics.Some VA's have programs specializing in PTSD treatment. Use the VA PTSD ProgramLocator to find a PTSD program.If you are a war Veteran, find a Vet Center to help with the transition from military to civilian life.Call the 24/7 Veteran Combat Call Center1-877-WAR-VETS (1-877-927-8387) to talk to another combat Veteran.DoD's Defense Centers of Excellence (DCoE) 24/7 Outreach Center for Psychological Health & Traumatic Brain Injury provides information and helps locate resources.Call 1-866-966-1020 or email resources@dcoeoutreach.orgMilitary OneSourceCall 24/7 for counseling and many resources 1-800-342-9647.Need further assistance? Get Help with VA PTSD Care, Benefits, or Claims.