08 Jun
United States Wars, News and Casualties

The War Criminals
How many Iraqis have died as a result of the invasion 15 years ago? Some credible estimates put the number at more than one million. You can read that sentence again.
The invasion of Iraq is often spoken of in our country as a "blunder," or even a "colossal mistake." It was a crime.
Those who perpetrated it are still at large. Some of them have even been rehabilitated thanks to the horrors of a mostly amnesiac citizenry. (A year ago Mr. Bush was on "The Ellen DeGeneres Show," dancing and talking about his paintings.)
The war criminals, Bush,Cheney,Rice,Rumsfeld, Wolfowitz, and Powell who sold us the war still go on doing what they do.
We condemned children to death, some after many days of writhing in pain on bloodstained mats, without pain relievers. Some died quickly, wasted by missing arms and legs, crushed heads. As the fluids ran out of their bodies, they appeared like withered, spoiled fruits. They could have lived, certainly should have lived – and laughed and danced, and run and played- but instead they were brutally murdered. Yes, murdered!
The war ended for those children, but it has never ended for survivors who carry memories of them. Likewise, the effects of the U.S. bombings continue, immeasurably and indefensibly.
The McGlynn

War News
Organisation accuses fighting parties of using it as a pawn in four-year civil war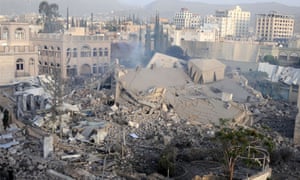 The International Committee of the Red Cross is removing 71 of its international staff from Yemen, citing a series of incidents and threats by groups trying to turn the organisation into a pawn in the three-year civil war.
The ICRC, which has had a presence in Yemen since 1962, warned the enforced departures would cripple its humanitarian activities, such as surgical services, visits to detainees, clean water initiatives and food assistance.
"Our current activities have been blocked, threatened and directly targeted in recent weeks, and we see a vigorous attempt to instrumentalise our organisation as a pawn in the conflict," the director of operations, Dominik Stillhart, said. "The ICRC holds all parties responsible for the security of its staff."
The Yemen civil war, now in its fourth year, is a multilayered conflict in which a Saudi-led coalition is battling to defeat a Houthi resistance and restore the UN-recognised government to the capital, Sana'a.
The ICRC said it could only continue its operations in Yemen if it had the full agreement of all parties to the conflict. An ICRC employee, a Lebanese national, was killed on 21 April when an unknown gunman opened fire on the man's car in the south-western city of Taiz.
BEIRUT (Reuters) – Air strikes on a village in Syria's rebel-held Idlib province have killed at least 38 people overnight, the Syrian Observatory for Human Rights said on Friday.
"War planes, which are likely Russian, targeted the village of Zardana in northern rural Idlib overnight and caused the highest death toll in a single attack on the region since late March," Rami Abdulrahman, the director of the Britain-based war monitor said.
The death toll is expected to increase as some of the 50 injured in the strikes were in a critical condition, he said. Rescue workers were still searching under the rubble for survivors.
The northwestern Idlib region remains the largest populated area of Syria in the hands of insurgents fighting the Damascus government.
In recent years, tens of thousands of fighters and civilians have fled there from parts of the country which the army has recaptured with the help of Russia and Iran.
BEIRUT (AP) — A Syrian war monitor and paramedics say an airstrike on a rebel-held northwestern village has killed at least 35 and wounded dozens, including children.
The opposition's Syrian Civil Defense, also known as White Helmets, said the late Thursday night airstrike killed 35 and wounded 80 in the village of Zardana.
The Britain-based Syrian Observatory for Human Rights said Friday the airstrike occurred after Muslims broke their Ramadan holiday fast after sunset.
Such airstrikes have been relatively uncommon in recent months in the rebel-held province of Idlib, which is part of a de-escalation zone agreed on last year by Russia, Turkey and Iran.
Tens of thousands of Syrians displaced from other parts of the country have settled in Idlib province over the past two years.
At least 17 people have been killed and 80 wounded by explosions that destroyed a mosque in the Iraqi capital Baghdad, medical sources say.
The government said the blasts on Wednesday night were the result of the detonation of an ammunition cache in the Shia Muslim district of Sadr City.
It did not give an exact location of the cache, but some security officials said it was inside the mosque.
The mosque was used by supporters of the Shia cleric Moqtada Sadr.
KABUL, Afghanistan (AP) — An Afghan official says two suicide bombers targeted a lawmaker in eastern Nangarhar province, leaving three dead, but the lawmaker wasn't home at the time.
Ataullah Khogyani, spokesman for the provincial governor, said the attack Friday targeted the home of Feridon Momand, a member of parliament, in the provincial capital of Jalalabad. A police officer, a woman and her husband in the building were killed and five others were wounded.
Khogyani says says Momand was not at home at the time.
Khogyani says one of the suicide bombers was killed by police and a second was arrested.
KABUL, Afghanistan (AP) — Afghan President Ashraf Ghani on Thursday announced a weeklong cease-fire with the Taliban to coincide with the holiday marking the end of Ramadan next week.
A statement sent from the president's office on Thursday says the cease-fire will begin on 27 Ramadan, or June 12 on the Western calendar, and last through the Eid al-Fitr holiday, until around June 19. It says the cease-fire does not include al-Qaida or the Islamic State group.
There was no immediate comment from the Taliban, who have steadily expanded their presence in recent years, capturing a number of districts across the country and carrying out near-daily attacks, mainly targeting Afghan security forces.
Gen. Mohammad Sharif Yaftali, the army chief of staff, told reporters that Afghan forces would be on standby throughout the cease-fire and respond to any attacks. He also said the army would continue to battle "international terrorists," apparently referring to al-Qaida and IS.
Ghani's statement referred to a gathering of Afghanistan's top clerics on Monday in which they issued a decree against suicide attacks and called for peace talks. A suicide bomber struck just outside the gathering as it was dispersing, killing at least seven people and wounding 20 in an attack claimed by the Islamic State group.
The Taliban had denounced the gathering, insisting that its jihad, or holy war, against foreign invaders was justified. It instead urged the clerics to side with it against the "occupation."
BRUSSELS — The top American commander in Afghanistan says the Kabul government's unilateral halt to attacks on the Taliban gives U.S. combat forces an opportunity to intensify attacks against an Islamic State-affiliated extremist group in eastern Afghanistan.
Army Gen. John Nicholson made the comment to reporters on the sidelines of a meeting of NATO defense ministers where he was providing updates on the war against the Taliban. Nicholson said he could not predict whether the Taliban will join the cease-fire announced this week by President Ashraf Ghani.
Nicholson said Ghani's ceasefire does not apply to the separate fight U.S. counterterrorism forces are engaged in against IS-related fighters in eastern Afghanistan. He said that fight already is intensifying in Nangarhar province and will now be stepped up further.
SYDNEY — Australian soldiers had a "disregard for human life" and used "illegal" violence on missions in Afghanistan, a confidential defense department inquiry heard from special forces insiders, according to an Australian newspaper report on Friday.
"These allegations must be, and are being, thoroughly examined, independently from the chain of command," Australian Defence Minister Marise Payne said in a statement on Friday, referring to an official investigation which began in 2016.
The investigation is probing "rumors of possible breaches of the laws of armed conflict" by Australian troops in Afghanistan between 2005 and 2016.
Australia, a staunch U.S. ally, has had troops in Afghanistan for 17 years fighting against the Taliban and other Islamist militants. It currently has about 300 troops in Afghanistan.
There is a "reasonable basis to believe" that war crimes and crimes against humanity were committed by all sides in the conflict, according to the prosecutor of the International Criminal Court.
The Sydney Morning Herald newspaper said unidentified Australian "special operations forces insiders" described the illegal use of force to a secret inquiry before an official investigation began in 2016.
The inquiry reported "problems deeply embedded in the culture" of the special forces and conduct that goes "well beyond blowing off steam", according to the newspaper.
By Khaama Press on 08 Jun 2018 1:05pm .
At least four people including two civilians, a police soldier, and a suicide bomber were killed in a failed suicide attack on a lawmaker's house in Jalalabad city. The provincial government media office in a statement said the incident took place earlier today in the vicinity of the 4th police district of the city after .
By Khaama Press on 07 Jun 2018 4:54pm .
The NATO Secretary General Jens stoltenberg welcomed the announcement by President Mohammad Ashraf Ghani for a ceasefire with the Taliban group. Speaking during a press conference head of the Defense Ministeriala, Stoltenberg said "I welcome the announcement of a ceasefire made by President Ashraf Ghani and the Government of National Unity. This is a positive .
War Casualties By Name – Search by Name:

Recent Casualties:
Color Denotes Today's Confirmation
The Department of Defense announced today the death of a soldier who was supporting Operation Freedom's Sentinel.
Spc. Gabriel D. Conde, 22, of Loveland, Colorado, was killed in action April 30 as a result of enemy small arms fire in Tagab District, Afghanistan. The incident is under investign.
Conde was assigned to 3rd Battalion, 509th Infantry Regiment, 4th Infantry Brigade Combat Team (Airborne), 25th Infantry Division, U.S. Army Alaska, Joint Base Elmendorf-Richardson, Alaska.

Care for Veterans:
PTSD: National Center for PTSDPTSD Care for Veterans, Military, and FamiliesSee Help for Veterans with PTSD to learn how to enroll for VA health care and get an assessment.
All VA Medical Centers provide PTSD care, as well as many VA clinics.Some VA's have programs specializing in PTSD treatment. Use the VA PTSD ProgramLocator to find a PTSD program.If you are a war Veteran, find a Vet Center to help with the transition from military to civilian life.
 
Iraq A Deadly Deception – War Documentary 2018
WAR DOCUMENTARY: IRAQ A DEADLY DECEPTION ALJAZEERA DOCUMENTARIES 2018 On the evening of 9/11, George W Bush made a vow to the American public – that he would defeat terrorism.
Unknown to those listening in shock to the presidential address, the president and his advisers had already begun planning their trajectory into an invasion of Iraq. It was packaged as "holding responsible the states who support terrorism" by Richard Perle, a Pentagon adviser between 2001 and 2003.
"I believe it represented a recognition that we would never succeed against the terrorists if we went after them one at a time and as long as governments were facilitating the organisation, training, equipping of, financing of terrorist organisations, we were never going to get it under control," says Perle.
After 100 days spent fighting those who had become publicly accepted as the culprits – Osama bin Laden, al-Qaeda and the Taliban in Afghanistan – the US set the ball rolling for war against Iraq.
On the evening of 9/11 the president is saying: well, maybe we'll be going after Iraq now and somebody said, well, that would be against international law. The president responded: I don't care, we're going to kick some ass