23 Aug
United States Wars, News and Casualties
Khatla Ali Abdullah, 90, is embraced as she flees her home as Iraqi forces battle with Islamic State militants in western Mosul.

REUTERS/Zohra Bensemra
*********************
"I regret they got hurt,' Bush,the former president and war criminal said of the veterans."
To the War Criminal Bush – And to the thousands upon thousands of innocent civilians?
Never, ever forget that the War Criminals Bush, Cheney, Rumsfeld etc. founded ISIS and today are proud of what they did and feel no regret.
'It was the right decision': Bush says he has 'no regrets' about invading Iraq and Afghanistan when asked how he feels when he sees wounded veterans
Since the Iraq and Afghanistan conflicts began, at least 8,000 US and allied soldiers have died, according to CNN.
Tens of thousands of civilians are believed to have been killed in Afghanistan since 2001, according to the United Nations.
The civilian death toll in Iraq is estimated to be somewhere between 170,000 and 190,000, according to Iraq Body Count. 
The McGlynn
**********************

War News
The war in Yemen, which began early last year when the government was overthrown by rebel forces, has pushed the country to the brink of famine. This video contains distressing scenes from the start. See more from BBC Our World's documentary Starving Yemen this weekend on BBC World, BBC News and iPlayer.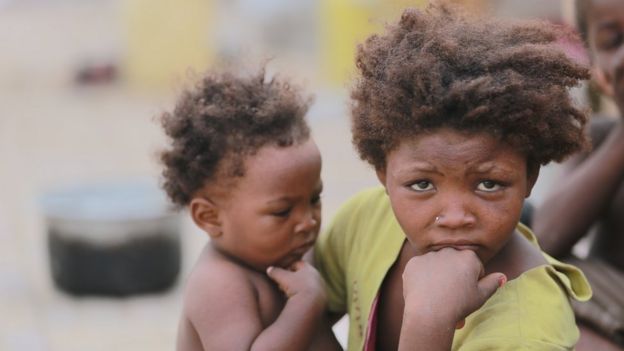 Severe food and medical shortages caused by two years of devastating war are having a major impact on everyday life in Yemen. The BBC's Nawal al-Maghafi travelled across the country to see the effects first hand.
(The coalition received logistical and intelligence support from the US, UK and France.)
Samira ran into the school – now a makeshift cholera treatment clinic – with the desperation of a mother who knew she had little time left to save her child.
To get here she had travelled for kilometres on foot, the only means of transport she could afford.
I watched as she dashed towards one of the treatment tables, gently laying Orjowan, her 18-month-old baby, across it, and pleading with the doctors to save her.
Her eyes spoke not just of her despair, but of visible exhaustion.
For Samira, survival these past two years has been a relentless, never-ending battle. Pale and weak, Orjowan looked about half the size of a child her age, with visibly protruding ribs.
In order to get this far Samira and her family had to endure, and survive, three of the biggest calamities of this war: displacement, famine and cholera.
Like almost three million other Yemenis, Samira and her family are internally displaced persons (IDPs).
Their home was hit in an air strike by the Saudi-led multinational coalition that is supporting the government in its war with the rebel Houthi movement.
Samira's children, along with nearly half a million others under five years old, were suffering from severe acute malnutrition. Samira was too, which meant she could not breastfeed Orjowan.
Instead, all she was able to give her daughter were meagre servings of powdered milk, prepared with water contaminated with the bacteria that causes cholera.
As she watched over her child, Samira broke down in tears.
"If there was anything more I could do for her, I would," she said. "Even if I were to ask my brother for help, he can't because he too is desperate."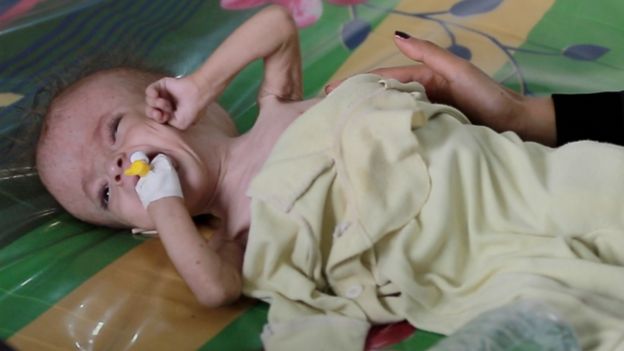 As she spoke, Orjowan lay on the table, so thin she was barely able to cry. Samira continued to watch her child's frail, pained body, looking utterly helpless.
Sadly, Samira's case was far from being an isolated story – indeed, it was the first of many I would encounter on my journey across Yemen.
Everywhere I went, I saw more people suffering from desperation, grief and defencelessness.
In the rebel-controlled north of the country, we visited clinic after clinic, all packed with patients infected with cholera. At one site I met a family of 18, all suffering from the disease.
It may sound perverse to say so, but these were – in many ways – the lucky ones; the people who were able to undertake and afford the journey to get treatment.
More than 2,000 people are believed to have already died as a result of the cholera outbreak – the largest in the world – and 540,000 others have been infected.
Because of the war more than half of all health facilities have closed or are only partially functioning, leaving 15 million people without access to healthcare………………..A blockade imposed on Yemen since 2015 by the Saudi-led coalition has reduced the amount of food, aid and fuel allowed into the country to a trickle.
BEIRUT (AP) — Syrian state media and opposition activists said Tuesday that airstrikes on the northern city of Raqqa have killed dozens of civilians.
U.S.-backed Syrian opposition fighters have been trying to capture the city from the Islamic State group since June 6, and have been fighting under the cover of airstrikes by the U.S.-led coalition.
The Kurdish-led Syrian Democratic Forces now hold more than half of Raqqa, the de facto capital of the extremist group's self-styled Islamic caliphate.
The Britain-based Syrian Observatory for Human Rights said airstrikes in Raqqa on Monday killed 42 civilians, including 19 children and 12 women. The activist-run group Raqqa is Being Slaughtered Silently said 32 people were killed in airstrikes on one neighborhood alone.
Syrian state media said the airstrikes killed dozens.
They all blamed the U.S.-led coalition.
U.N. spokesman Stephane Dujarric said humanitarian staff in Syria are "deeply concerned by unconfirmed reports of a high number of civilians killed by airstrikes in Raqqa City over the last 24 hours."
"These attacks, if confirmed, are a shocking reminder that civilians continue to bear the brunt of the conflict in many parts of Syria," he added.
"In recent days and weeks, scores of civilians have been killed and injured in Raqqa due to airstrikes and shelling, and up to 25,000 people remain trapped in the city," he said.
Representational photo.
Baghdad (IraqiNews.com) More than 4000 Iraqis have forcibly disappeared in "secret prisons" in the country, with authorities still unable to locate them, according to Iraqi parliamentarians and human rights advocates.
Zana Saeed, a member of the parliament's legal affairs committee, who is in charge of the forcible disappearance file, told London-based Alquds Alarabi that "according to governors of central and western provinces, the number of forcibly disappeared civilians since 2014 stands at more than 4000, mostly from Baghdad Belts". He said certain "bodies" receive citizens' reports of those disappearances.
"There could be information available about their whereabouts, but the government is still unable to take practical steps to rescue them," Saeed told the newspaper.
He blamed the phenomenon on the "appearance of armed groups taking the law into their own hands, especially in Baghdad and other provinces".
Refugees from Mosul. Representational photo
Najaf (IraqiNews.com) A stressed out migrant from the town of Tal Afar has set fire to his own family, police sources said as thousands more of civilians continue to flee the enclave.
A source in Najaf police service told Alsumaria News Wednesday that the migrant's family consisted of seven members, and all lived in a house on the road between Tal Afar and Karbala province.
"Initial investigations revealed he had been suffering psychological pressures, and he had been referred to a mental hospital. He was a former agent at the Civil Defense service in Tal Afar," said the police source.
Najaf and other southern provinces are home to hundreds of refugees who had migrated from Islamic State-held areas.
BAGHDAD (AP) — Turkey's foreign minister has reiterated his country's demand that the Iraqi Kurds cancel a scheduled referendum for independence.
Mevlut Cavusoglu told reporters in Baghdad that Turkey's expectation from Irbil, the capital of the autonomous northern Iraqi Kurdish region, is "very plain and clear — and that is the annulment of this referendum decision."
Masoud Barzani, the Kurdish region's president, announced the vote on whether to secede from Iraq would be held on Sept. 25.
Cavusoglu says Turkey has been saying all along that "the referendum decision is wrong" and that he would tell the Iraq Kurdish leaders so "once more" when he visits Irbil later on Wednesday.
LASHKAR GAH, Afghanistan (Reuters) – At least five people were killed and 42 wounded when a suicide attacker detonated a car bomb near a police headquarters in Afghanistan's Helmand province on Wednesday, officials said.
The explosion struck a crowd of policemen and soldiers who had gathered to collect their pay in Helmand's capital city, Lashkar Gah, provincial police chief Abdul Ghafar Safai said.
Two local women, two soldiers, and a child died in the blast and their bodies were taken to the hospital, along with more than 40 wounded, a doctor at the hospital told Reuters. He said the toll could rise.
ON BOARD A U.S. MILITARY AIRCRAFT (Reuters) – The U.S. Air Force may intensify its strikes in Afghanistan and expand training of the Afghan air force following President Donald Trump's decision to forge ahead with the 16-year-old war, its top general told Reuters on Tuesday.
Air Force Chief of Staff General David Goldfein said, however, he was still examining the matter, as the U.S. military's top brass had only begun the process of translating Trump's war strategy into action.
Asked whether the Air Force would dedicate more assets to Afghanistan, where the United States has been engaged in its longest military conflict, Goldfein said only: "Possibly."
WASHINGTON (Reuters) – Rolling back territorial gains by the Taliban and strengthening the Afghanistan army's ability to fight will be two key objectives of President Donald Trump's new strategy for the country, a senior administration official said on Tuesday.
Trump, in a televised speech on Monday, promised a stepped-up military campaign against Taliban insurgents who have gained ground against the U.S.-backed Afghan government.
In outlining his strategy to give the U.S. military more authority to make battlefield decisions, Trump did not provide a timetable for determining whether the mission is a success or how commanders would be able to judge progress…………….But Representative Adam Schiff, the top Democrat on the House Intelligence Committee, struck a critical tone on Tuesday.
"While a 'conditions based' approach is appealing to military leaders because it gives the Taliban less certainty about how long it will take to wait us out, it also diminishes pressure on the Afghan government to reform itself and give the Afghan people something worth fighting for, since it indicates a willingness to bail them out indefinitely," Schiff said in a statement.
Dozens of people were killed or wounded after a suicide attack rocked Lashkargah city the provincial capital of southern Helmand province earlier today. According to the local government officials, the incident took place near the provincial police commandment after a suicide bomber detonated his explosives.
Provincial governor's spokesman Omar Zwak confirmed the incident and said at least five people were killed and more than forty others were wounded in the attack.
He said at least two security personnel and three civilians were among those killed.
No group including the Taliban insurgents has so far claimed responsibility behind the incident.
Helmand is among the volatile provinces in southern Afghanistan where the Taliban insurgents are actively operating in its various districts.
The group has launched numerous deadly attacks in some of the key districts of the province during the recent months.
The Taliban insurgents launched a coordinated attack by detonating Humvee vehicles and storming the security posts in Greshk district last month.
The former Afghan President Hamid Karzai has said he strongly opposes the new strategy of the United States for Afghanistan and Central Asia. The former President in a statement said "I very strongly oppose the new U.S. strategy towards Afghanistan as it is against peace and the national interest of Afghanistan." Karzai further added "The
C

asualties, Exclusive of Civilians
Recent Casualties
Color

Denotes Today's Confirmation
The Department of Defense announced today the death of two soldiers who were supporting Operation Inherent Resolve. They died Aug. 13 of wounds sustained while engaged in combat operations in Iraq. Both soldiers were assigned to 2nd Battalion, 319th Airborne Field Artillery Regiment, 2nd Brigade Combat Team, 82nd Airborne Division, Fort Bragg, North Carolina. The incident is under investigation.
Killed were:
Sgt. Roshain Euvince Brooks, 30, of Brooklyn, New York
Spc. Allen Levi Stigler Jr., 22, of Arlington, Texas
The Department of Defense announced today the death of two soldiers who were supporting Operation Freedom's Sentinel. They died Aug. 2 in Kandahar, Afghanistan, as a result of injuries sustained when a vehicle-borne improved explosive device detonated near their convoy. Both soldiers were assigned to 2nd Battalion, 504th Infantry Regiment, 1st Brigade Combat Team, 82nd Airborne Division, Fort Bragg, N.C. The incident is under investigation.
Killed were:
Sgt. Jonathon Michael Hunter, 23, of Columbus, Indiana.
Spc. Christopher Michael Harris, 25, of Jackson Springs, North Carolina.
The Department of Defense announced today the death of an airman who was supporting Operation Inherent Resolve.
Tech. Sgt. David Board, 49, of Barboursville, West Virginia, died August 2 in Kuwait in a non-combat-related incident while deployed in support of combat operations.
The Department of Defense announced today the death of a soldier who was supporting Operation Freedom Sentinel.
Pfc. Hansen B. Kirkpatrick, 19, of Wasilla, Alaska, died July 3, in Helmand Province, Afghanistan, from wounds received during an indirect fire attack. The incident is under investigation.
He was assigned to the 1st Battalion, 36th Infantry Regiment, 1st Brigade Combat Team, 1st Armored Division, Fort Bliss, Texas.
DOD:  The Department of Defense announced today the death of three soldiers who were supporting Operation Freedom's Sentinel.
They died June 10 in Peka Valley, Nangarhar Province, Afghanistan, of gunshot wounds sustained in Peka Valley, Nangarhar Province, Afghanistan. The incident is under investigation.
The Soldiers were assigned to Headquarters and Headquarters Battery, 3rd Battalion, 320th Field Artillery Regiment, 101st Airborne Division (Air Assault) and Company D, 1st Battalion, 187th Infantry Regiment, 3rd Brigade Combat Team, 101st Airborne Division (Air Assault), Fort Campbell, KY.
Killed were:
Sgt. Eric M. Houck, 25, of Baltimore, Maryland;
Sgt. William M. Bays, 29 of Barstow, California; and
Corporal Dillon C. Baldridge, 22 of Youngsville, North Carolina
PTSD: National Center for PTSDPTSD Care for Veterans, Military, and FamiliesSee Help for Veterans with PTSD to learn how to enroll for VA health care and get an assessment.All VA Medical Centers provide PTSD care, as well as many VA clinics.Some VA's have programs specializing in PTSD treatment. Use the VA PTSD ProgramLocator to find a PTSD program.If you are a war Veteran, find a Vet Center to help with the transition from military to civilian life.Call the 24/7 Veteran Combat Call Center1-877-WAR-VETS (1-877-927-8387) to talk to another combat Veteran.DoD's Defense Centers of Excellence (DCoE) 24/7 Outreach Center for Psychological Health & Traumatic Brain Injury provides information and helps locate resources.Call 1-866-966-1020 or email resources@dcoeoutreach.orgMilitary OneSourceCall 24/7 for counseling and many resources 1-800-342-9647.Need further assistance? Get Help with VA PTSD Care, Benefits, or Claims.