22 Nov
The McGlynn
 
The below, to me, is massively  abhorrent, alarming and important.
The isolation, registering and even quarantining all of those having the Muslim faith, be they citizens, refugees or just guests in our country, attacks the very foundation of my country and my personal beliefs.
I am so abhorred at this that I must compose myself before I write more. And that I will surely do.
However, a few words. Go ropa an diabhal thú!
Leaders fear worsening 'climate of hostility' as conservative candidates call for database to track Muslims and equate Syrian refugees to 'rabid dogs'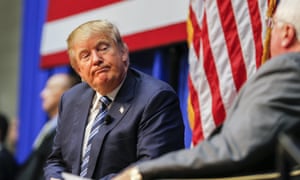 Several Muslim American groups compared Trump's comment to the branding and forced identification of European Jews that paved the way to the Holocaust. Photograph: Erik S Lesser/EPA
And:
The Republican presidential frontrunner said that if elected president, he would implement a system to track Muslims in the country. Trump even suggested further steps to ensure US security: 'There should be a lot of systems, beyond databases,' he told NBC, saying such policies would help America to crack down on illegal immigrants. Asked how he would implement such a system, Trump replied: 'Good management'
And
Republican presidential hopeful Ben Carson says in Alabama on Thursday that stopping militants posing as Syrian refugees from entering the US was like handling rabid dogs. Carson is among the GOP hopefuls who have called for the US to close to its borders to Syrian refugees in the wake of last week's attacks in Paris in which 129 people died
Read full article: